Crude oil futures – weekly outlook: August 8 – 12
By Investing.com
Crude oil futures – weekly outlook: August 8 – 12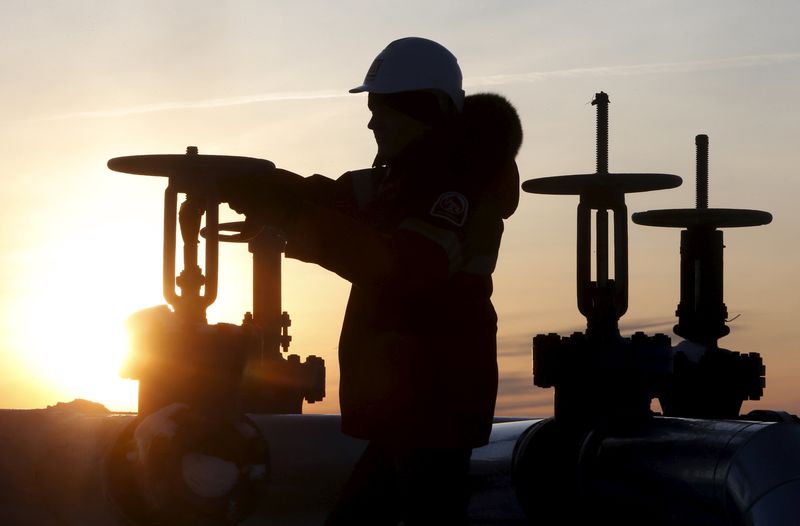 © Reuters. Oil prices fall on Friday as dollar, U.S. rig count rise, but still end the week with gains
Investing.com – Oil futures ended Friday's session slightly lower, as the U.S. dollar spiked following the release of upbeat U.S. employment data and after a report showed the number of U.S. oil rigs rose for a sixth straight week.
But prices still ended the week with modest gains as technical short-covering and bargain-hunting returned to support the market.
On the New York Mercantile Exchange, crude oil for delivery in September dipped 13 cents, or 0.31%, to end at $41.80 a barrel by close of trade.
Oil futures initially jumped higher after data showed U.S. nonfarm payrolls increased more than expected in July, boosting optimism over the health of the world's largest economy.
But prices started moving lower as the upbeat jobs report lifted the U.S. dollar to one-week highs against most of its major counterparts. Oil prices typically weaken when the U.S. currency strengthens as the dollar-priced commodity becomes more expensive for holders of other currencies.
Crude stayed lower after oilfield services provider Baker Hughes said late Friday that the number of rigs drilling for oil in the U.S. last week increased by seven to 381, the sixth consecutive weekly rise and the ninth increase in 10 weeks.
Despite Friday's modest losses, New York-traded oil futures inched up 20 cents, or 0.48%, on the week, snapping a two-week losing streak, aided by an impressive rebound that followed upbeat data on gasoline inventories.
Nymex oil prices sank to a more than three-month low below $40 a barrel earlier this week and entered a bear market before rebounding Wednesday and Thursday in the wake of a sharp drop in gasoline inventories.
According to the U.S. Energy Information Administration, gasoline inventories decreased by 3.3 million barrels last week, much more than the expected 0.2-million-barrel decline.
However, the report also showed that crude oil inventories rose by a surprising 1.4 million barrels to 522.5 million, which the EIA considered to be "historically high levels for this time of year".
According to market experts, elevated stocks of fuel products amid slowing global demand growth is expected to keep prices under further pressure in the near-term.
WTI crude futures are nearly 19% lower from their 2016 highs above $50 a barrel scaled in early June, as signs of an ongoing recovery in U.S. drilling activity combined with growing gasoline stockpiles weighed.
Elsewhere, on the ICE Futures Exchange in London, Brent oil for October delivery shed 2 cents, or 0.05%, on Friday to settle at $44.27 a barrel by close of trade.
For the week, London-traded Brent futures tacked on 74 cents, or 1.67%, the first weekly gain in three weeks as investors returned to the market to seek cheap valuations after prices sank to the lowest level since April.
London-traded Brent futures are down almost 16% since peaking at $52.80 in early June, as prospects of increased exports from Middle Eastern and North African producers, such as Iraq, Nigeria and Libya, added to concerns that a glut of oil products will cut demand for crude by refiners.
In the week ahead, oil traders will be focusing on U.S. stockpile data on Tuesday and Wednesday for fresh supply-and-demand signals.
Meanwhile, investors will keep an eye out for monthly reports from the Organization of Petroleum Exporting Counties and the International Energy Agency to gauge global supply and demand levels.
Market players will also continue to monitor supply disruptions across the world for further indications on the rebalancing of the market.
Ahead of the coming week, Investing.com has compiled a list of these and other significant events likely to affect the markets.
Tuesday, August 9
The American Petroleum Institute, an industry group, is to publish its weekly report on U.S. oil supplies.
Wednesday, August 10
The Organization of Petroleum Exporting Counties will publish its monthly assessment of oil markets.
The U.S. Energy Information Administration is to release its weekly report on oil and gasoline stockpiles.
Thursday, August 11
The International Energy Agency will release its monthly report on global oil supply and demand.
Friday, August 12
Baker Hughes will release weekly data on the U.S. oil rig count.