Wednesday, November 2nd, 2016
now browsing by day
Seeking Alpha
Technically, Crude Oil Is Right At The Edge
Summary
Crude oil extends its slide following a disappointing October.
Technically, a retest of the weekly support trend line is being seen.
Short-term bulls should place a strict stop loss.
At the end of September, I wrote a technical analysis-based article on crude oil (NYSEARCA: USO) titled Crude Oil Could Soar To $80 If This Happens. Fast forward one month, and it seems that the commodity wants to go in the opposite direction in the short term.
In my previous article, I had highlighted that a breakout needs to happen while the momentum lasts. At that time, crude was trading near $48 a barrel and went on to hit a one-year high of $51.93.
I had also commented that:
Getting some big players like Russia on board to a production freeze or a cut could lend serious momentum to the upsurge, and cause the price to pierce the resistance zone of $50-$52.
Instead, what we are hearing now is the news (or rumor) that some nations want to be exempt from any agreement to freeze their production levels, and as a result, the resistance zone of $50-$52 has stood firm. An expected rise in U.S. crude stockpiles is also adding to the misery of oil bulls.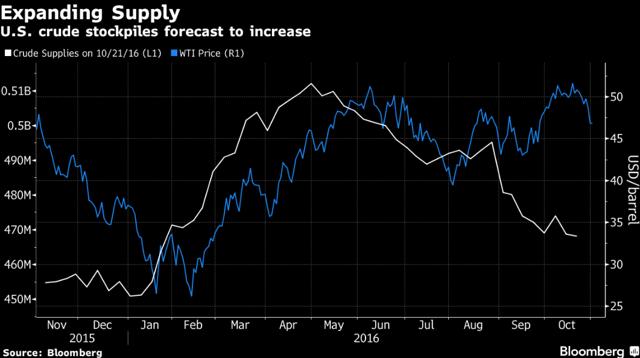 Click to enlarge
The bearish developments have forced the smart money to increase their short bets on crude oil (NYSEARCA: OIL).
The rising probability that OPEC will struggle to get the member nations and Russia to come to an agreement, and abide by it is setting the stage for a longer period of lower prices.
I, for one, sometimes find myself overwhelmed with all this noise. Therefore, to see a clearer picture, I go to my technical charts. The technical charts are a representation of what the buyer is willing to pay (or a seller is willing to take) for one barrel of oil considering all the external factors. I then decide if the same level is appropriate for me or not.