Thursday, May 4th, 2017
now browsing by day
Seeking Alpha
 by: Nima Karamlou
Summary
WTI Crude fell nearly 3% following negative headlines on Libya and OPEC.
Agreement between militants and Libyan government pave the way to higher Libyan output.
Our analysis suggests crude has downside to ~$45 in the short-run, but will be higher by year end.
Overview
WTI crude dropped nearly 3% in midday trade after a wave of bearish news surfaced regarding OPEC and Libya. Crude oil has been a laggard (3.30%) over the month and nearly (10%) in the last 3. Primary drivers of the declines in crude are expected shale ramps (increasing rig count), uncertainty around OPEC, and a reversal of fortunes for Libya.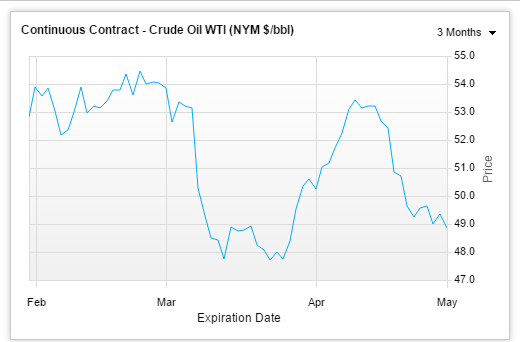 Source: FactSet
In the energy markets, there will be no gain without pain.
OPEC & Libya In Focus
A Bloomberg article surfaced today citing the recent agreement between the Libyan prime minister, Fayez Al-Sarraj, and the Eastern Commander Khalifa Haftar that will presumably lead to a cease fire. Political upheaval and violence impacted Libyan oil production severely.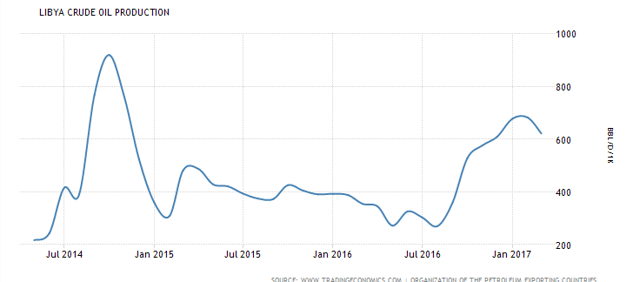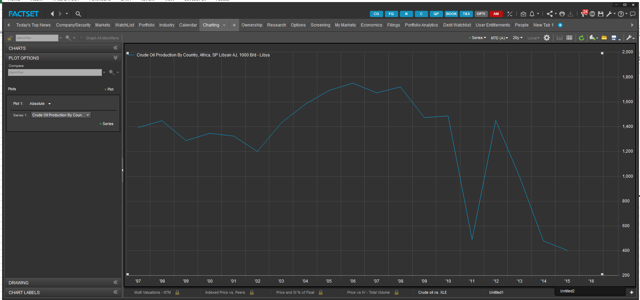 Source(s): TradingEconomics, FactSet
Rampant fighting began in 2011, closely followed by volatile swings in production. Libyan oil production that was eclipsing 1.8 mmb/d cratered below 400 tb/d. Production levels had trouble reaching 1 mmb/d during the fighting, but have steadily crept up in 2017. Libyan production has since reached 700 tb/d, falling within our bear case forecast that has Libyan production pegged between 680 tb/d-710 tb/d. It would appear that the Libyans are desperately looking to boost oil production that will provide a steady stream of revenue to the country, which was cut off during the war. The recent peace deal between the militants and the prime minister should allow for such production ramp.