Brent Oil
now browsing by tag
Millions Now at Risk From Oil and Gas-Related Earthquakes, Scientists Say
Mar 3, 2017
Damage from an earthquake is seen at an Oklahoma home, where earthquakes have been linked to the injection of fracking wastewater underground. Millions of people in central and eastern U.S. are now at risk of damage from man-made earthquakes caused by oil and gas activities. Credit: Pat Carter/Getty Images
A new earthquake hazard map for the central and eastern United States shows about 3.5 million people, primarily in Oklahoma and southern Kansas, are at high risk of experiencing a damaging man-made earthquake from oil and gas-related activities this year.
Researchers at the United States Geological Survey have produced a one-year seismic outlook that takes into account both natural and human-caused earthquakes, mainly those generated by the underground disposal of oil and gas wastewater and, to a lesser extent, by fracking itself.
In recent years, there has been a surge in quakes linked to oil and gas activity, including a massive 5.8 event last September in Pawnee, Okla. Some have caused damage to homes, buildings and roads across Oklahoma and elsewhere, sparking public concern and prompting regulators to begin restricting local energy company activities.
Despite some pockets of the country remaining on high alert for damaging shaking, the scientists did find the region's overall risk went down compared to last year, which was the first year of the seismic report. The 2016 forecast had indicated up to 7 million people had a chance of facing damage from a moderate man-made earthquake. The 2017 forecast was lower because the total number of earthquakes were lower in the study area in 2016 compared with 2015.
The scientists said the drop in earthquakes last year suggests man-made earthquakes can be controlled by reducing the fracking and/or wastewater disposal activity.
According to Mark Petersen, one of the leading USGS scientists involved in the project, the decrease was largely due to state regulatory actions starting in 2014 to restrict waste disposal and energy extraction in known potential earthquake zones. He also said it could have stemmed from companies reducing oil production and waste generation because of last year's low oil prices.
"These reductions in earthquake rates indicate that this type of seismicity is manageable or controllable," Petersen said a press conference announcing the 2017 forecast.
The researchers used the record of historical earthquakes (including all the ones in 2016), as well as studies and modeling in developing their 2017 hazard map. It showed that a large section of central and northern Oklahoma, as well as southern Kansas, faces a greater than 1 percent chance of experiencing a moderate earthquake this year. Moreover, a sliver of central Oklahoma faces an at least 10 percent chance. This especially high-risk area was the origin of the state's largest-ever earthquake, the one that struck near Pawnee.
Overall the number of earthquakes in Oklahoma declined last year. However, the state was shaken by a record number of strong events in 2016. State regulators have increasingly put in place regulations to prevent man-made earthquakes, including rules announced in December on how drillers should respond to possible fracking-linked events.
According to a joint statement from state officials at the Oklahoma Corporation Commission and the Oklahoma Geological Survey, the USGS 2017 forecast "serves to confirm the validity of the work done in Oklahoma to reduce earthquake risk, as well as the need for the effort to continue."
The new forecast also identified high risk in two other areas where oil and gas wastewater disposal takes place: a small area in northern Kansas, as well as an area called Raton Basin along the Colorado-New Mexico border, which experienced two earthquakes above magnitude 4.0 last year.
The researchers identified a new area of risk of man-made quakes, in western Texas, compared to last year. Meanwhile, the risk of damaging events in northern Texas largely disappeared compared to 2016. The USGS scientists said at the recent press conference that they did not know why this was the case and that Texas officials are studying the issue.
The threat of man-made earthquakes tied to oil and gas activities extends to states excluded from the forecast. For example, researchers have identified likely man-made earthquakes in multiple areas of oil and gas development in California. And state officials in Pennsylvania last month announced a series of four small earthquakes observed in April 2016 that they say was linked to a nearby fracking pad.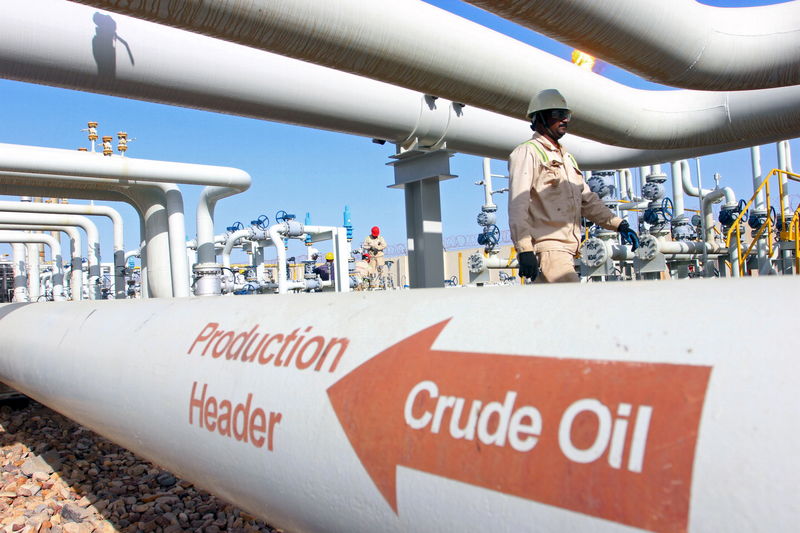 © Reuters. Oil settles higher on signs of tightening supplies
Investing.com – Oil futures finished higher on Friday, logging a modest weekly gain with traders encouraged by signs that global supply is tightening in wake of a planned agreement by major crude producers to cut output.
On the ICE Futures Exchange in London, Brent oil for March delivery rallied $1.33, or about 2.5%, to settle at $55.45 a barrel by close of trade Friday.
London-traded Brent futures scored a gain of 4 cents, or approximately 0.1%, on the week.
Elsewhere, on the New York Mercantile Exchange, crude oil for delivery in March jumped $1.10, or around 2.1%, to end at $53.22 a barrel by close of trade.
For the week, New York-traded oil futures rose 5 cents, or nearly 0.1%.
Oil jumped on Friday after Saudi Arabia's Energy Minister Khalid al-Falih, speaking at the World Economic Forum in Davos, said that 1.5 million barrels a day of the roughly 1.8 million in cuts pledged by OPEC and non-OPEC countries have already been taken out of the market.
The upbeat comments added to signs that the oil market is rebalancing.
Prices, however, finished off the session's highs after data showed a sharp weekly rise in the number of active U.S. rigs drilling for oil.
According to oilfield services provider Baker Hughes, the number of rigs drilling for oil in the U.S. jumped by 29 last week to 551, the largest weekly increase since a recovery in the rig count began in June and the highest level in around 14 months.
The data raised concerns that the ongoing rebound in U.S. shale production could derail efforts by other major producers to rebalance global oil supply and demand.
In a monthly report issued this week, the International Energy Agency said OPEC production has slowed, declining by 320,000 barrels a day to 33.09 million barrels in December.
January 1 marked the official start of the deal agreed by OPEC and non-OPEC member countries such as Russia in November last year to reduce output by almost 1.8 million barrels per day to 32.5 million for the next six months.
The deal, if carried out as planned, should reduce global supply by about 2%.
Some traders remain skeptical that the planned cuts will be as substantial as the market currently expects.
While some major oil producers, such as Saudi Arabia and Kuwait, have so far showed signs that they are sticking to their pledge to cut back output, others, such as Libya and Iraq have ramped up production.
A monitoring committee charged with tracking adherence to the global deal is due to meet in Vienna for the first time on January 22.
Elsewhere on Nymex, gasoline futures for February rose 3.1 cents, or about 2.1% to $1.566 a gallon. It ended down about 2.9% for the week.
February heating oil tacked on 2.7 cents, or 1.7%, to finish at $1.645 a gallon. For the week, the fuel declined around 0.3%.
Natural gas futures for February delivery sank 16.4 cents, or nearly 4.9%, to $3.204 per million British thermal units. It posted a weekly loss of more than 6% on forecasts for warmer winter weather.
In the week ahead, market participants will eye fresh weekly information on U.S. stockpiles of crude and refined products on Tuesday and Wednesday to gauge the strength of demand in the world's largest oil consumer.
Traders will also continue to pay close attention to comments from global oil producers for further evidence that they are complying with their agreement to reduce output this year.
Ahead of the coming week, Investing.com has compiled a list of these and other significant events likely to affect the markets.
Tuesday, January 24
The American Petroleum Institute, an industry group, is to publish its weekly report on U.S. oil supplies.
Wednesday, January 25
The U.S. Energy Information Administration is to release weekly data on oil and gasoline stockpiles.
Thursday, January 26
The U.S. EIA is to produce a weekly report on natural gas supplies in storage.
Friday, January 27
Baker Hughes will release weekly data on the U.S. oil rig count.