heating oil
now browsing by tag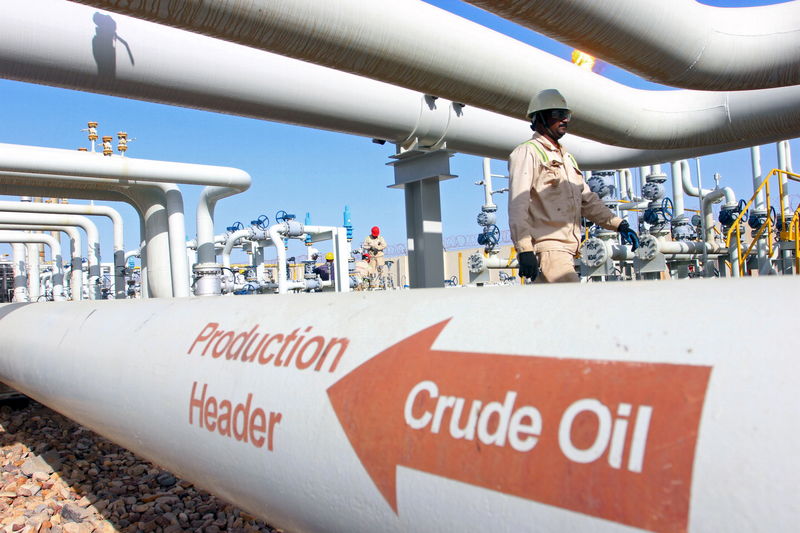 © Reuters. Oil settles higher on signs of tightening supplies
Investing.com – Oil futures finished higher on Friday, logging a modest weekly gain with traders encouraged by signs that global supply is tightening in wake of a planned agreement by major crude producers to cut output.
On the ICE Futures Exchange in London, Brent oil for March delivery rallied $1.33, or about 2.5%, to settle at $55.45 a barrel by close of trade Friday.
London-traded Brent futures scored a gain of 4 cents, or approximately 0.1%, on the week.
Elsewhere, on the New York Mercantile Exchange, crude oil for delivery in March jumped $1.10, or around 2.1%, to end at $53.22 a barrel by close of trade.
For the week, New York-traded oil futures rose 5 cents, or nearly 0.1%.
Oil jumped on Friday after Saudi Arabia's Energy Minister Khalid al-Falih, speaking at the World Economic Forum in Davos, said that 1.5 million barrels a day of the roughly 1.8 million in cuts pledged by OPEC and non-OPEC countries have already been taken out of the market.
The upbeat comments added to signs that the oil market is rebalancing.
Prices, however, finished off the session's highs after data showed a sharp weekly rise in the number of active U.S. rigs drilling for oil.
According to oilfield services provider Baker Hughes, the number of rigs drilling for oil in the U.S. jumped by 29 last week to 551, the largest weekly increase since a recovery in the rig count began in June and the highest level in around 14 months.
The data raised concerns that the ongoing rebound in U.S. shale production could derail efforts by other major producers to rebalance global oil supply and demand.
In a monthly report issued this week, the International Energy Agency said OPEC production has slowed, declining by 320,000 barrels a day to 33.09 million barrels in December.
January 1 marked the official start of the deal agreed by OPEC and non-OPEC member countries such as Russia in November last year to reduce output by almost 1.8 million barrels per day to 32.5 million for the next six months.
The deal, if carried out as planned, should reduce global supply by about 2%.
Some traders remain skeptical that the planned cuts will be as substantial as the market currently expects.
While some major oil producers, such as Saudi Arabia and Kuwait, have so far showed signs that they are sticking to their pledge to cut back output, others, such as Libya and Iraq have ramped up production.
A monitoring committee charged with tracking adherence to the global deal is due to meet in Vienna for the first time on January 22.
Elsewhere on Nymex, gasoline futures for February rose 3.1 cents, or about 2.1% to $1.566 a gallon. It ended down about 2.9% for the week.
February heating oil tacked on 2.7 cents, or 1.7%, to finish at $1.645 a gallon. For the week, the fuel declined around 0.3%.
Natural gas futures for February delivery sank 16.4 cents, or nearly 4.9%, to $3.204 per million British thermal units. It posted a weekly loss of more than 6% on forecasts for warmer winter weather.
In the week ahead, market participants will eye fresh weekly information on U.S. stockpiles of crude and refined products on Tuesday and Wednesday to gauge the strength of demand in the world's largest oil consumer.
Traders will also continue to pay close attention to comments from global oil producers for further evidence that they are complying with their agreement to reduce output this year.
Ahead of the coming week, Investing.com has compiled a list of these and other significant events likely to affect the markets.
Tuesday, January 24
The American Petroleum Institute, an industry group, is to publish its weekly report on U.S. oil supplies.
Wednesday, January 25
The U.S. Energy Information Administration is to release weekly data on oil and gasoline stockpiles.
Thursday, January 26
The U.S. EIA is to produce a weekly report on natural gas supplies in storage.
Friday, January 27
Baker Hughes will release weekly data on the U.S. oil rig count.