oil futures
now browsing by tag
Crude oil rises after report shows drop in stockpiles
TOKYO Oil futures climbed nearly 1 percent on Thursday after data showed a surprise decline in U.S. crude stocks as imports fell, supporting the view that a global glut is ending.
The U.S. West Texas Intermediate crude April contract CLc1 had risen 50 cents, or 0.9 percent, to $54.09 a barrel by 0229 GMT.
Brent crude LCOc1 was up 51 cents, or 0.9 percent, at $56.35, although both benchmarks were still well within recent tight ranges.
Crude inventories fell by 884,000 barrels in the week to Feb. 17 to 512.7 million, compared with analyst expectations for an increase of 3.5 million barrels, data from industry group the American Petroleum Institute showed on Wednesday. [API/S]
That added to optimism earlier in the week when the Organization of the Petroleum Exporting Countries said a deal with other producers including Russia to curb output was showing a high level of compliance.
However, for prices to break out of their trading ranges, the market needs to see signs that OPEC inventories are falling, said Tony Nunan, oil risk manager at Mitsubishi Corp in Tokyo.
"It's a battle between how quick OPEC can cut without shale catching up," Nunan said, referring to U.S. drilling in shale formations that has shown an upsurge after prices rose this year. [RIG/U]
"What OPEC really has to do is get the inventories down," he said.
Eleven non-OPEC oil producers that joined the OPEC deal have delivered at least 60 percent of promised curbs so far, OPEC sources said on Wednesday, higher than initially estimated.
In the United States, crude stocks at the Cushing, Oklahoma, delivery hub were down by 1.7 million barrels, while U.S. crude imports fell last week by 1.5 million barrels per day (bpd) to 7.398 million bpd, according to the API.
Official data from the U.S. Department of Energy's Energy Information Administration (EIA) is scheduled to be released at 11 a.m. EST (1600 GMT) on Thursday, a day later than normal because of a holiday Monday. [EIA/S]
"All attention now shifts to the EIA crude inventory figures due out this evening in the U.S., with the market looking for an increase of 3.4 million barrels," said Jeffrey Halley, senior market analyst at OANDA in Singapore.
"A big miss either way will set the short term direction for crude."
(Editing by Richard Pullin and Joseph Radford)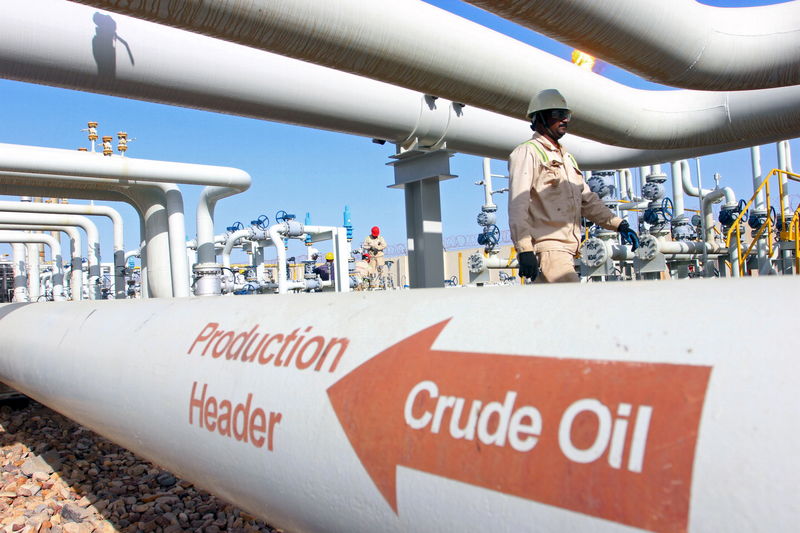 © Reuters. Oil settles higher on signs of tightening supplies
Investing.com – Oil futures finished higher on Friday, logging a modest weekly gain with traders encouraged by signs that global supply is tightening in wake of a planned agreement by major crude producers to cut output.
On the ICE Futures Exchange in London, Brent oil for March delivery rallied $1.33, or about 2.5%, to settle at $55.45 a barrel by close of trade Friday.
London-traded Brent futures scored a gain of 4 cents, or approximately 0.1%, on the week.
Elsewhere, on the New York Mercantile Exchange, crude oil for delivery in March jumped $1.10, or around 2.1%, to end at $53.22 a barrel by close of trade.
For the week, New York-traded oil futures rose 5 cents, or nearly 0.1%.
Oil jumped on Friday after Saudi Arabia's Energy Minister Khalid al-Falih, speaking at the World Economic Forum in Davos, said that 1.5 million barrels a day of the roughly 1.8 million in cuts pledged by OPEC and non-OPEC countries have already been taken out of the market.
The upbeat comments added to signs that the oil market is rebalancing.
Prices, however, finished off the session's highs after data showed a sharp weekly rise in the number of active U.S. rigs drilling for oil.
According to oilfield services provider Baker Hughes, the number of rigs drilling for oil in the U.S. jumped by 29 last week to 551, the largest weekly increase since a recovery in the rig count began in June and the highest level in around 14 months.
The data raised concerns that the ongoing rebound in U.S. shale production could derail efforts by other major producers to rebalance global oil supply and demand.
In a monthly report issued this week, the International Energy Agency said OPEC production has slowed, declining by 320,000 barrels a day to 33.09 million barrels in December.
January 1 marked the official start of the deal agreed by OPEC and non-OPEC member countries such as Russia in November last year to reduce output by almost 1.8 million barrels per day to 32.5 million for the next six months.
The deal, if carried out as planned, should reduce global supply by about 2%.
Some traders remain skeptical that the planned cuts will be as substantial as the market currently expects.
While some major oil producers, such as Saudi Arabia and Kuwait, have so far showed signs that they are sticking to their pledge to cut back output, others, such as Libya and Iraq have ramped up production.
A monitoring committee charged with tracking adherence to the global deal is due to meet in Vienna for the first time on January 22.
Elsewhere on Nymex, gasoline futures for February rose 3.1 cents, or about 2.1% to $1.566 a gallon. It ended down about 2.9% for the week.
February heating oil tacked on 2.7 cents, or 1.7%, to finish at $1.645 a gallon. For the week, the fuel declined around 0.3%.
Natural gas futures for February delivery sank 16.4 cents, or nearly 4.9%, to $3.204 per million British thermal units. It posted a weekly loss of more than 6% on forecasts for warmer winter weather.
In the week ahead, market participants will eye fresh weekly information on U.S. stockpiles of crude and refined products on Tuesday and Wednesday to gauge the strength of demand in the world's largest oil consumer.
Traders will also continue to pay close attention to comments from global oil producers for further evidence that they are complying with their agreement to reduce output this year.
Ahead of the coming week, Investing.com has compiled a list of these and other significant events likely to affect the markets.
Tuesday, January 24
The American Petroleum Institute, an industry group, is to publish its weekly report on U.S. oil supplies.
Wednesday, January 25
The U.S. Energy Information Administration is to release weekly data on oil and gasoline stockpiles.
Thursday, January 26
The U.S. EIA is to produce a weekly report on natural gas supplies in storage.
Friday, January 27
Baker Hughes will release weekly data on the U.S. oil rig count.
HONG KONG Oil shares pulled regional stock markets higher on Thursday after OPEC members agreed to curb output in a surprise deal, though investors were wary of chasing markets higher as the U.S. presidential election neared.
MSCI's broadest index of Asia-Pacific shares outside Japan was up 0.9 percent by mid-morning, thanks to a bounce in energy shares, but other markets such as Hong Kong were trading near the day's lows after an early jump.
Stocks in Europe were expected to open higher following Asia.
"Despite the favorable oil deal, foreign institutional investors are sticking to their favorite counters before the U.S. elections results as there is simply too much market uncertainty," said Andrew Sullivan, managing director, sales trading at Halting International Securities Group in Hong Kong.
Japan's Nikkei climbed 1.5 percent, after losing 1.3 percent the previous day. In Hong Kong, the benchmark index was up 0.5 percent with energy-related shares the biggest gainers.
Oil futures retreated in Asian trade as the market grew more skeptical of the deal, pondering how the group agreed to limit production and how OPEC would implement such a plan. [O/R]
"Investors and traders are skeptical – with good reason. More cynical traders are questioning the complete lack of detail, including the potentially problematic question of which nations will curtail production," Michael McCarthy, chief market strategist at Sydney's CM Markets, told Reuters.
Though OPEC's first agreement to cut production since 2008 drove risky assets initially higher, the lack of detail made some investors wary.
Brent crude eased slightly after earlier climbing to a high of $49.09 when the market opened, its highest since Sept. 9. WTI crude edged lower to $46.99 a barrel, after first hitting $47.47, its highest since Sept. 8.
"I think the markets are still not fully convinced," said Daisuke Uno, chief strategist at Sumitomo Mitsui Bank.
Still, the jump in oil prices boosted risk assets and undermined the yen, which is often seen as a safe haven at times of economic stress.
The dollar rose 0.7 percent to 101.38 yen, extending its rebound from one-month low of 100.085 touched on Tuesday.
The euro was higher at $1.12305, recovering from Wednesday's low of $1.1182 helped in part by rebound in shares of Deutsche Bank.
($1 = 7.7538 Hong Kong dollars)
(Additional reporting by Keith Wallis in SINGAPORE and Hideyuki Sano in TOKYO; Editing by Eric Meijer and Kim Coghill)