Seeking Alpha
Jul.23.17 |
Summary
Saudi Arabian inventories reach relatively low levels.
We can envision crude oil moving to lower lows, but perhaps not before it retests its downtrend resistance line near $49.
Our proprietary value indicator and option expiration price magnets suggest that crude oil is undervalued in the short run.
Last week, John Kemp wrote an article titled Saudi Arabia empties domestic crude tanks which in our view provides hard evidence that the long awaited supply-and-demand re-balancing is taking place. Mr. Kemp writes, "Saudi crude stocks have fallen by 30 million barrels since May 2016 compared with a drawdown of just 6 million barrels in the United States over the same period."
While many pay close attention to the US EIA data, the reduction in Saudi Arabian crude oil stocks have received less attention, and this metric is perhaps more meaningful. We encourage readers to read the whole article. One chart from the article is included below; it shows that the days of storage of Saudi Arabian crude oil (on a demand basis) have fallen to levels not seen since 2011-2012.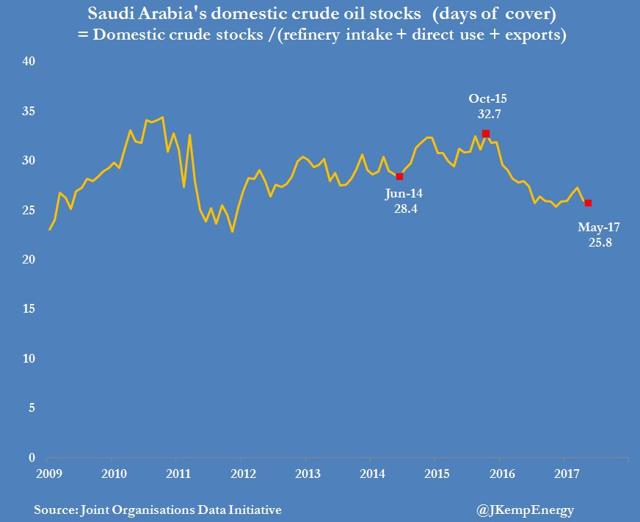 We believe that over the long run, supply and demand dynamics have definite impact on world oil prices. In the short run, however, we believe that technical factors and money flows have more of an influence. We will now evaluate five factors to determine our swing-trade investment positioning in crude oil (shown below). We are currently looking to establish a long position in crude oil near $45/bbl, which would be approximately $9.25 in the United States Oil fund (USO).