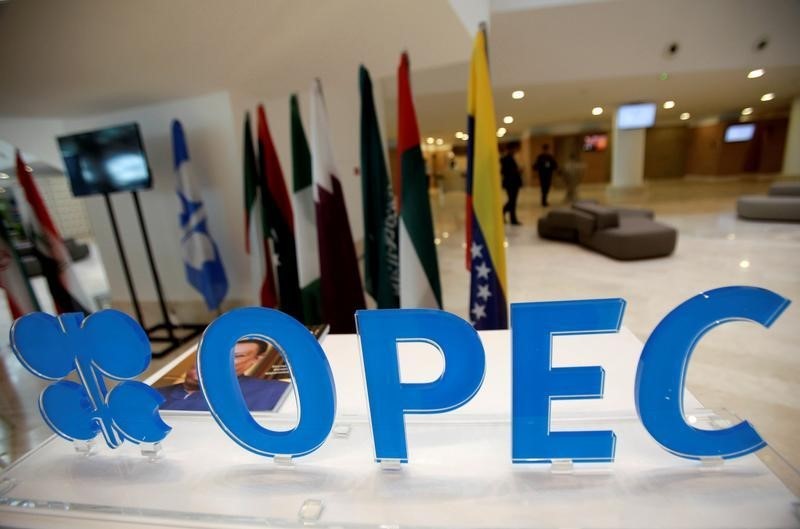 © Reuters. Oil scores weekly gains ahead of OPEC meeting
Investing.com – Crude oil prices finished higher in an abbreviated session on Friday, with the U.S. benchmark surging to its best level since July 2015, as the shutdown at North America's Keystone pipeline continued to cut deliveries to storage facilities.
U.S. West Texas Intermediate (WTI) crude futures rose 93 cents, or around 1.6%, to end at $58.95 a barrel by close of trade, levels not seen since the summer of 2015.
Meanwhile, Brent crude futures, the benchmark for oil prices outside the U.S., tacked on 31 cents, or roughly 0.5%, to settle at $63.86 a barrel.
Trading in crude futures settled an hour earlier on Friday, at 1:30PM ET, following the observance of Thanksgiving in the U.S. on Thursday.
For the week, WTI gained about 4.2%, while Brent marked a climb of about 1.8%.
The disruption to the Keystone pipeline connecting Canada's Alberta oil sands to U.S. refineries has reduced the usual 590,000 barrel-per-day flow to U.S. refineries, driving down inventories at the storage hub of Cushing, Oklahoma
Flow from the pipeline, which was shut on Nov. 16 following a 5,000-barrel spill in South Dakota, was expected to be reduced by 85% through the end of November, according to line operator TransCanada.
Crude prices were further supported by growing signals that the Organization of Petroleum Exporting Countries (OPEC) and its allies will agree to prolong supply curbs when producers meet in Vienna at the end of the month.
Russia said on Friday it is ready to support extending a deal among oil producers on cutting output, but made no mention of how long this should last beyond its March expiry.
Under the original terms of the deal, OPEC and 11 other non-OPEC producers, led by Russia, agreed to cut output by about 1.8 million barrels per day for the first six months of 2017. The agreement was then extended back in May of this year for a period of nine more months until March 2018.
The OPEC-led production cuts have been one of the key catalyst supporting the recent rally in oil prices amid expectations that rebalancing in crude markets are well underway.
In other energy trading, gasoline futures tacked on 2.0 cents, or 1.1%, to end at $1.788 on Friday. It closed around 2.5% higher for the week.
Heating oil advanced 2.0 cents, or 1.1%, to $1.952 a gallon, marking a 0.3% weekly gain and booking its seventh weekly climb in a row.
Meanwhile, natural gas futures plunged 15.5 cents, or 5.2%, to settle at $2.813 per million British thermal units. For the week, futures lost 9.2%, marking the largest weekly percentage drop since the period ended Feb. 3., amid forecasts for less heating demand through early December.
In the week ahead, market participants will focus on the Organization of Petroleum Exporting Countries highly-anticipated meeting on Thursday to see whether major producers plan to extend their current production-cut agreement.
Most market analysts expect the oil cartel to extend output cuts for a further nine months until the end of next year in a bid to reduce global oil inventories and support oil prices.
Energy traders will also eye fresh weekly information on U.S. stockpiles of crude and refined products on Tuesday and Wednesday to gauge the strength of demand in the world's largest oil consumer.
Ahead of the coming week, Investing.com has compiled a list of these and other significant events likely to affect the markets.
Tuesday
The American Petroleum Institute, an industry group, is to publish its weekly report on U.S. oil supplies.
Wednesday
The U.S. Energy Information Administration is to release weekly data on oil and gasoline stockpiles.
Thursday
Major global oil producers are due to meet in Vienna in order to decide on extending their current output-cut deal.
The U.S. government will publish a weekly report on natural gas supplies in storage.
Friday
Baker Hughes will release weekly data on the U.S. oil rig count.