Summary
The May 2015 high stood as a line in the sand for oil.
Crude oil rises to the highest level since 2014 as inventories and rig counts in the U.S. decline.
Brent is flirting with $70 per barrel.
Economic data is supportive of oil.
A crowded trade.
On June 21, 2017, things were looking pretty bleak for the crude oil market. Critical technical support stood at the November 2016 low at $42.20 per barrel on the nearby NYMEX futures contract, and the price fell through that level to a low of $42.05. Many market analysts were calling for a test of the $40 level while others believed that the energy commodity was on its way back to a thirty handle.
The spring OPEC meeting disappointed many bulls who were hoping for an extension of production cuts through all of 2018 and all they got were three more months to the end of Q1 2018. However, the price of oil found a significant bottom at the June 21 low, and since then it has been off to the races and a one-way bullish street for the energy commodity. In early August, the price was back at the $50 level, and after a correction down to $45.58 in late August, the higher low took NYMEX crude on a bullish journey that culminated in a new high for the year in late October and early November. Crude oil continued to move to the upside and finished 2017 over $60 per barrel, a level not seen since 2015.
The May 2015 high stood as a line in the sand for oil
Crude oil rose from its low for 2017 to its high over a period of five months, and it kept on going.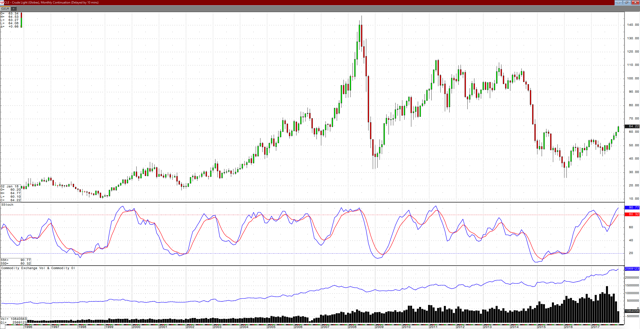 Source: CQG
As the monthly chart highlights, crude oil rose to over $60 per barrel at the end of 2017 and the next level of critical resistance stood at $62.58 per barrel the May 2015 high. NYMEX futures reached that level when they were on their way down from highs of over $107 in June 2017, and the price was the result of a dead cat bounce that eventually took the energy commodity to its February 2016 low at $26.05 per barrel. Crude oil has been moving higher alongside rising open interest which provides a degree of technical validation to the bullish trend. While the energy commodity has moved into overbought territory on the monthly chart, the price took out the area of technical resistance last week.